This year, for fun and my birthday month, I'm hosting a series of meet and greet, question and discussion dinners with people on my business team and people interested in natural health solutions.
The first one was last night at Panera Bread in Hazel Dell, Washington. We had a blast eating deliciously healthy food, playing with essential oils and talking about how we use them in our daily lives. What a pleasure to catch up with team members and meet fascinating, fun, fantabulous women.
Celeste (above left photo) is a beautiful newlywed, obviously enjoying married life and wanting to choose wisely for herself and her future. She was the youngster of the group and a good sport about socializing with all of us seasoned ladies.
Or rather, women of experience, compassion, caring, power. Wise women of the baby boomer generation.
April (above far right) invited Wannetta (center). They both work at InLight, a space in Vancouver dedicated to speeding up the healing process with the power of light, oxygen, and water. Including color. April and her work will be featured in a future post, I'm sure.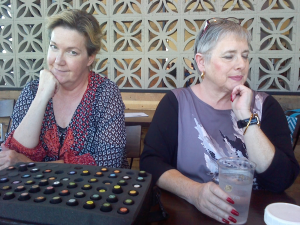 Kathy (above left) invited Catherine (right). Both have had intense health challenges, and yet have light in their eyes and smiles, genuine caring and goodness radiating from them.
Karen (above center) is a leader on many levels. She knows her stuff, both in business and natural wellness areas, and has a clear, simple way of explaining even complicated information. She organized and arranged the dinner, and I am grateful for her energy and work.
She invited Celeste (the young one), Linda (above left), and Janna (above right). Linda has a huge personality and heart, filling the room with sunshine. Janna shows tender care for her family and friends and has the discipline to do anything she sets her mind to.
I look forward to getting to know each of these wonderful wise women as we share natural wellness solutions with those we care about.
Next dinner near Tacoma, Washington- let me know if you want more info here
To Amazing Life!
Debbie