The universe is a pretty big place. It's bigger than anyone has ever dreamed of before.. So if it's just us, it seems like an awful waste of space." Anabelle in the movie "Contact."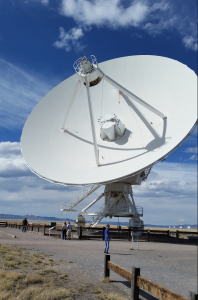 Worlds without End
Over this last week, my husband and I visited our younger son David and his wife Jennifer in Albuquerque, New Mexico. We had great day trips to see the area, and one of the highlights was visiting the Very Large Array (VLA) about 2 hours south.
I loved it because I much enjoyed the movie "Contact" with Jodie Foster, before that had loved the book it was based on by Carl Sagan, and mostly, am fascinated by the idea of many sentient life forms in our universe. Many worlds to explore. The VLA is a radio telescope that receives and sends for analysis radio signals from space. It's been instrumental in more new discoveries than any other telescope of its kind.
While I look forward to a time when we could be in alliance and communication with people from other worlds, I've found that there are also many worlds to explore here on earth. For any and every new interest, there are new people to meet and respect and learn from, there are magazines and web sites, there are events and specific lingo, there's a whole different way of looking at the world. And every new world I delve into deepens and broadens who I am.
It doesn't even matter what the subject is. I've explored lavender, astronomy, leadership principles, lions, soap making, writing, biographies, parenting, massage, Florence (Italy), preparedness, spiritual growth, vegan living, guitar, and many more.
There are so many good things to discover and enjoy that I'd need several lifetimes to get into all of them. So I have to choose which to become more expert in.
Inside and Out
I've pondered where to put my energy for most of my life. What do I really want to be when I grow up? What is most enjoyable, will be most fulfilling, will best bless the world using my gifts and talents?
For me at this point in time, the vehicle is promoting natural wellness and financial abundance, supporting wise women to make their dreams reality, and developing a strong community to bless, build, heal, inspire. I have projects in mind, other talents I intend to develop, people to deepen connection to.
What about YOU?
So what world resonates with you? What would you delve into if time flexibility and money were no problem? I'd love to hear about your passion and see how we connect.
In the near future, I intend to spotlight and interview people in our A.S.P.E.N. Living-Essential Oil group- amazing women, amazing stories, amazing aspirations and accomplishments.
Speaking of amazing…
To Amazing Health!
Debbie