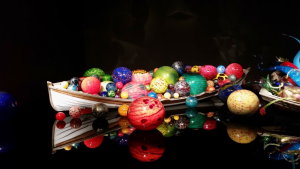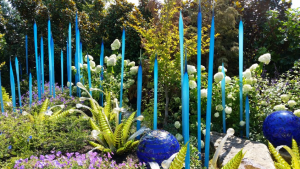 On this business trip to the Seattle area, I began implementing my new guideline of doing things fun and local on each trip, with team member friends if it works, but do it anyway.
With several schedule changes, neither Donna or Doris could go with me to see the Chihuly gardens and museum at the base of the Space Needle. So I drove down by myself from the hotel in Everett, found it and parking easily (thanks to Mapquest, my phone GPS, and prayer), and loved it!
It's like Dr. Suess for grown-ups. I admire the people who brought little children and kept them reigned in from touching, since I felt the temptation myself to run my fingers along the smooth edge of some of the gorgeous, sensual sculptures. Inside they were against dark walls, floors, and ceilings, and lit to show the bright shiny colors. Outdoors, even in sun, the colors still showed up and I half expected to see fairies among the plants and magical shapes. I want to live there. Definitely going back with friends or family and going to do the Space Needle too. Maybe also the science museum.
Pad Thai and Pizza and Rain, Oh My…..
Friday it rained HARD in Seattle, the first time in months, so I know they needed it, but I was driving from north of Seattle to Gig Harbor southwest of it. The usual 90 –minute drive took three hours! So I was late to this month's second Birthday month meal- this time a double with lunch at Lele's Thai restaurant, then dinner at Round Table Pizza (well, a breadstick since I was still full. Delicious though). Such sweet people choosing to travel a natural wellness path by taking care of themselves with essential oils and non-toxic products. I didn't get photos from the Thai meal- rushed in, chatted and ate, then on to Round Table Pizza. But enjoyed greeting current friends and meeting new friends. Mishko, Hillary, Kasey, Chelsea, Rene, Karen What a blast to get to know so many wonderful people I would never run across otherwise!
At the pizza restaurant, we talked wellness with Miyako and her friend Fumiko, with Chris and Bev, with Mary, Karen, and the organizer par excellence Doris. There are many things we can do to support our body's health, and I'm grateful to have many tools to choose from. It's kind of my thing- collecting, connecting and sharing information, ideas, products, and people who can bless each other's' lives. Brings me joy, plus love and respect for the burdens so many of us carry, with courage and grace.
To Amazing Life!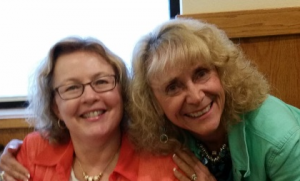 Debbie