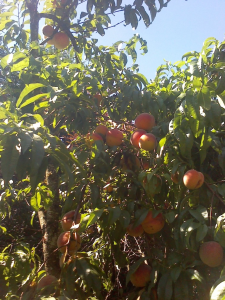 We have a beautiful old peach tree in our back yard who's branches are literally breaking with the load of fruit. For the last few summers we've gotten very few because we had mischievous little boys living with us who like to try garden fruit before it's ready, and also like to use it for throwing, or rolling, or who knows what. As much as we miss them, we are loving the peaches this year. I feel rich and abundant sharing produce with neighbors and friends, especially these sweet juicy delicious orbs of gold.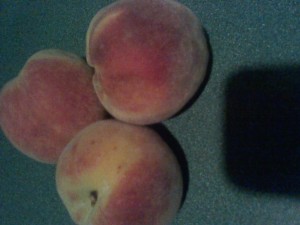 Besides freezing the somewhat misshapen or not-so-beautiful peaches, my chef daughter Angie and I have made healthified desserts. For peach crisp, she substituted whole grain flour and coconut sugar for the more refined versions. I made this scrumptious version of fresh peach pie, keeping half the peaches raw so as to keep the enzymes available to our bodies. Besides the nutrition benefits, we are in the midst of a 100º hot streak, so I don't want to use the oven. On the stove, keeping the hood fan on while cooking keeps the heat out of the house.
Here's the recipe- though I didn't use an exact amounts. I just know that generally a tablespoon of cornstarch or arrowroot powder thickens a cup of liquid to about pudding consistency. The pectin and fiber in fruit also add some thickness.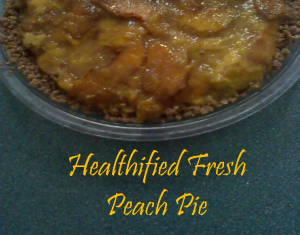 Crust
You can use a pre-made and baked flour crust, or try this super-easy crumb crust made with Ezekiel 4:9 Brand Sprouted Grain Crunchy Cereal with Almonds
2 cups high fiber cereal
1/3 cup coconut oil or coconut oil/butter combination, melted
¼ cup coconut sugar or evaporated cane juice sugar
Mix all ingredients together and press into 10" pie pan
Filling
6 cups fresh ripe peaches, pitted, peeled, and sliced
¼- ½ cup sweetener such as evaporated cane juice or agave nectar, to taste*
2 rounded tablespoons cornstarch stirred well into 3-4 tablespoons water
½ teaspoon almond extract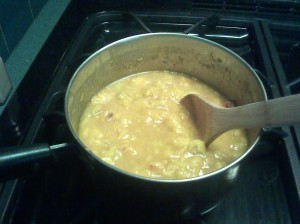 Place 3 cups of the peaches and the sugar in a large saucepan and mash well. Heat to nearly boiling over medium-high heat. While stirring, mix in the cornstarch/water mixture and continue stirring until the mixture comes to a boil. Boil for one minute or until thickened. Remove from heat; add the rest of the sliced peaches and almond extract. Pour into prepared pie crust and refrigerate. Makes one 10" pie.
*or ½ -2 teaspoons stevia powder if you need sweetener and want to avoid any added sugars
Enjoy big, healthy pieces of a guilt-free dessert.
To Amazing Health!
Debbie