A huge part of reducing our toxic load is using household products that are simple, clean, without harsh or dangerous chemicals. Here's a sampling from our larger group's "Live" Brochure. For our Natural Solutions Lifestyle…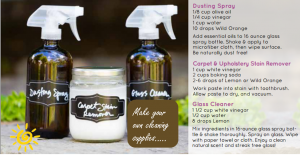 Many, many more ideas to decrease our toxic load are in this brochure. Please email me if you'd like to see one at Debbie@aspenliving.org.
I love having the resources available to DIY in so many ways. Such valuable, yet easy ideas.
To Amazing Life!
Debbie