Oh my goodness, this is the place to be for awe-inspiring heights and depths, water and wildlife, lodges and forests. My Montana hosts and traveling companions, Karen, Doug, and Kelsey Thurston, Mark Robison (whose sweet wife Susan stayed home), took me on a day trip into Glacier National Park today. What they just call "the Park."
We had cool weather, even a couple rain showers, for a perfect driving day through trees, moss covered rocks, tall waterfalls (even if they were a tiny fraction of their usual volume), many colored wildflowers, rivers, deep green valleys, huge lakes, stair-step and architectural boulders, a snow arch, engineering miracle bridges, the continental divide. And the animals! A solo mountain goat, a herd of 14 bighorn sheep just off the visitor center parking lot (including one IN the parking lot), and the best….. a bear. When we past the sign warning that this was bear country, Karen said not to count on a siting since she'd been visiting all her life and never seen one up there. But within half an hour, an adolescent brown creature climbed down the cliff, sauntered across the road only one car in front of us, and casually climbed over the foot-high wall.
It began eating the berries just on the other side of the wall, and we could actually put our arm out the window to take pictures of this guy just about 5 feet from us as we drove slowly by. He was totally occupied with his snack and very calm, or I certainly wouldn't have even opened my window. He ignored the line of cars But I doubt I'll be this close to one again- and it was beautiful.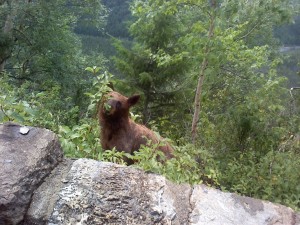 We spent all day checking out the west side of the Park, and then joined Karen's family attending a concert in the city park- fun band "The Smart Alecks" who played classics from several genre's- from country to pop to rock.
After ten days of travel and teaching, this day of nature and music filled me up with contentment and perspective. I am so grateful for my friends' generosity and hospitality, for the opportunity to feel the power and greatness of creation, for safety and new relationships. An incredible blessing.
To Amazing Life!
Debbie