My older daughter Tammy and I finished up watching "Food Matters" last night, and are re-inspired to improve the quality of our foods. I already drink more than a quart of green smoothie every day, have a meal salad several times each week, and eat a majority of plant foods. But I still eat quite a bit of sugar (even though it's the less refined versions), and some white breads. For some reason over the last few months I've craved bread and butter.
Starting with a stressful two-week-long event series in March and going through last week, my normally super-healthy eating habits have been lousy, and I can feel the difference. Weight gain, stiff joints, sagging spirits. Over the last couple years I've done a quarterly cleanse, alternating between all raw, organ cleanse rotation, no-sugar or gluten regimes. But missed this spring cleaning time. And my body can tell the difference.
Everyone is exposed to toxins from food, air, water, just by being alive, so cleansing regularly supports our body to be refreshed. I have the next two weeks moving Tammy and her family to their new home in Missouri (WAY too far away), and then I intend to do a couple weeks of Ani Phyo's wonderful raw food regime. More about her and that structure later.
One idea that stood out in "Food Matters" was that a couple handfuls of cashews eaten daily can help uplift the mood. Cashews- yum! That's something I am glad to do. Besides the roasted kind, I get "raw" nuts at Fred Meyer Nutrition Center here in Oregon. The quotation marks are around "raw" because all nuts, by law, must be heated to control for bugs and such. The heat often deactivates valuable enzymes that help us digest food well. With cashews in particular, there are several steps from tree to table to make them safely edible. But you can get nuts that haven't been roasted or salted, and cashews can be used to make smoothies, creams, bases for sauces and dips. In the gourmet vegan world, they are used extensively as a creamy base for sweet and savory dishes.
Besides eating them whole, I use soaked cashews in this bright breakfast smoothie, adapted from a recipe by Robyn Openshaw. Who knew raw carrots and beets, kefir and berries could help make a delicious way to start the day?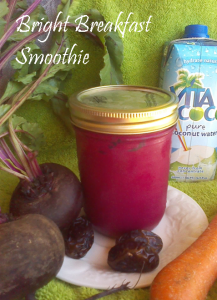 Bright Breakfast Smoothie
Makes a large BlendTec® or Vitamix® pitcher full.
½ cup dates
1 ½ cup coconut water
1/3 cup un-roasted cashews
2 carrots, chopped into several chunks
1 beet, chopped in to chunks
3 teaspoons vanilla extract
¼- ½ cup goat milk kefir
Optional:
1 teaspoon stevia powder
2-3 cups fresh or frozen strawberries
Soak dates in coconut water and cashews in filtered water for at least 30 minutes (I will soak even overnight). Rinse cashews. Put dates with coconut water, cashews, carrots, beet, vanilla, and goat milk kefir, and stevia if using in large container of high-speed blender and blend until smooth. Add strawberries to fill container, leaving about an inch at the top. Blend until smooth.
I get 5 pint jars of smoothie, plus a little more to share. Use within a couple days or freeze in jars for longer times. You can let a pint jar defrost the night before you're planning to eat/drink the smoothie, or on the counter and then in the fridge the whole day before. Pretty, bright pink, and delicious!
To Amazing Life!
Debbie