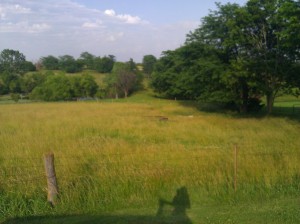 If you noticed a conspicuous lack of blog entries lately, it's due to a month-long project of helping our daughter and her family of eight move out of our house and to their new home in Albany, Missouri. It's a beautiful area in the northwest corner of the state, with green rolling hills, little traffic, and friendly people.
Tammy posted on Facebook one day that she'd seen driving down her street a golf cart, a quad, a tractor, and an Amish buggy. "I'm not in Portland anymore" was putting it mildly.
We stayed in the only motel, a spotlessly clean ten-unit building, and were grateful for air conditioning as we adjusted to high humidity and summery temperatures. They worked long hours to get the house ready for moving in while I had kid duty and play. We spent four driving days to get there from Oregon and four and a half days there before Tom and I flew home.
I packed my travel case of small essential oil vials, as I always do, and also had the usual purse pack of 12 small vials.
One day near the end of our trip I listed all the ways I could remember that we had used my little stock of oils or oil-containing products during the trip and was quite impressed by the list. It would have been a much more uncomfortable time without them.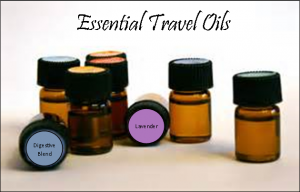 Travel Oils- Actually Used.
All were from My Oil Supplier (MOS), which current FDA requirements does not allow me to name. You can find out by contacting me directly here.
Bug repellent (Repellent blend)

Bug bites (Lavender and Cleansing blend)

Alertness while driving

Indigestion of JJ, the two-year old

Energy balancing (seven oils I use on my body energy points)

Unflavored oatmeal and granola (Wild Orange, Cinnamon)

Neck stiffness (Soothing blend)

Strained ankle (Lemongrass, Lavender, Soothing blend)

Cat scratches (Melaluca)

Stress and immunity support (Protective blend)

Flea prevention on cats (Lemongrass, Rosemary in water in a spray bottle)

Shared experience on the plane ride home (Wild Orange)

Musty smells, freshening house (diffused Citrus Bliss, Cleansing blend)

Muscle aches (Soothing blend cream and oil)

Healthier snack and appetite control- (Natural appetite suppressant bars)

Hand sanitizer (Cleansing blend, Wild Orange)

Nutrition Supplementation (food-based supplements)z

Supplementing meager fresh produce (fruit/ veggie drink mix)

Drinking water (could have added Lemon in restaurants, though I didn't think of it at the time)

Also used soaps, shampoo, conditioners, lotions containing essential oils.
And all this was in nine days. It's safe to say using pure essential oils is an everyday lifestyle for our family, and I'm grateful to have them available- a natural, plant-based way to take care of ourselves no matter where we are.
To Amazing Life-
Debbie