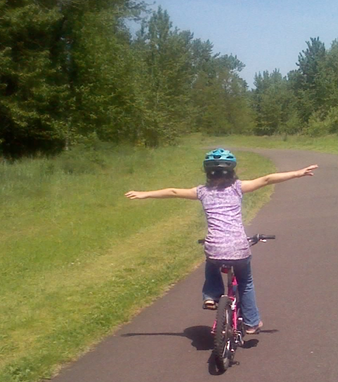 There's nothing like the joy of cycling through a tree-lined bike path, near a river, on a perfect sunny spring day, with grandchildren. My bone-on-bone ankle isn't a speed issue here- only the strength of my muscles and the slope of the path.
The energy of plants, water, sky fills and renews me, and I'm so grateful to see my posterity spending time outdoors. They can climb trees gracefully; make slides with repurposed plastic and dirt slopes; find flowers to bring to their grandmother; build forts in the shade; run; jump; get wet, dirty, scraped, strong. And then eat heartily and sleep deeply, having used all that energy we wish we could bottle for ourselves.
We've reached a point in city life where we could arrange our lives to never go outside, and I believe we are hungry for the energy and lessons of nature. My first herb teacher, Cascade Anderson Geller, once said in class that though many native or more earth connected people didn't read writing, they were experts at reading nature. They knew how to survive by reading the plants, the skies, the animals, the waters. Something millions of us have lost, and that I would like to reclaim.
It's one of the reasons I began studying herbalism, and was lead to a teacher who could help me know plants from the ground up (rather than only buying herbs in capsules), how to harvest, preserve, use them for our mutual benefit. A walk in the woods is a richer experience when you know you're surrounded by food, shelter, medicine, friends.
STRA (Star Trek Reference Alert)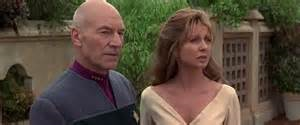 In the movie Insurrection, a group of people who had the capacity for space travel chose instead to live close to the earth they lived on, because they saw no need to travel the universe when there were whole universes in the simplest plant. It rang true to me- that we have new worlds to explore no matter what our current situation. And this is coming from a sci-fi fan, in case you couldn't tell. For some of us, the galaxy is calling. For others of us, our backyard is a world of wonder.
To Amazing Life-
Debbie