I've decided to have a birthday month, in gratitude for the ride so far. I have many years of memories, lessons, experiences, and am fortunate to have many ideas, dreams, goals, projects in mind for the future decades I intend to live well.
I want to use this year wisely, and in preparation for glorious 60s. I'm making a vision board that will have as centerpiece the glittery magical Disney castle with "60" on it as they celebrate their 60 years this year. It came from an advertisement and made me smile. Even though my happiest intentions are of living near recreational water, hosting family and friends for fun on beautiful property that can also sustain us with food, drinkable water, shelter, warmth, beauty, comfort throughout the year. My self-reliance and preparedness passion.
I grew up boating and waterskiing every weekend from about March to October on the Columbia River with my family, and water always draws me. Hence the card my sister sent me… (She claims to be the one in the yellow suit. Just means I'm the hot dog skier. He-he.) Notice the "W" on each ski? My sister added those in memory of my Mom, who used put a W on everything we took to the river to distinguish it from the other 5 families' paraphernalia.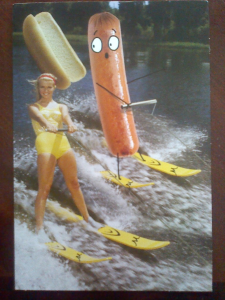 What a way to live in the summer! Besides the fun of water right there all day, I learned to deal with lack of restrooms, with a little sand in my food and swimsuit. Sometimes the sand was so hot we would run a little ways and then use our foot to rub away the hot surface to quickly get down to wetter, cooler layers. Stand there a moment to let our feet cool off and then run farther. My parents loaded up coolers full of delicousness, big shade umbrellas, towels and totes, our dog (Gilligan, a loving black mutt), and us, to meet the group of friends they had on the islands. We swam, skied, knew how to handle the ski ropes and boat docking routines. We dug holes and built castles, roasted marshmallows and ****.
I lived with a deep tan and sun-bleached hair, strong and healthy. It's interesting that the photo I found in a magazine a few years ago and still use as my barefoot heart avatar is walking along a beach boardwalk. It's who I am inside and I even have a copyrighted logo for that vision.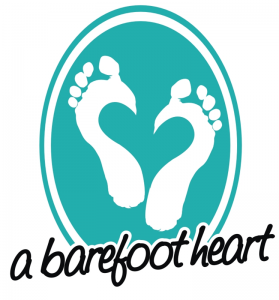 Sometimes you don't know where writing… journaling… blogging will take you. I didn't realize how intensely this is what I want for my family (well, probably not the suntan anymore) and myself. My season to manifest big time.
To Amazing Life!
Debbie